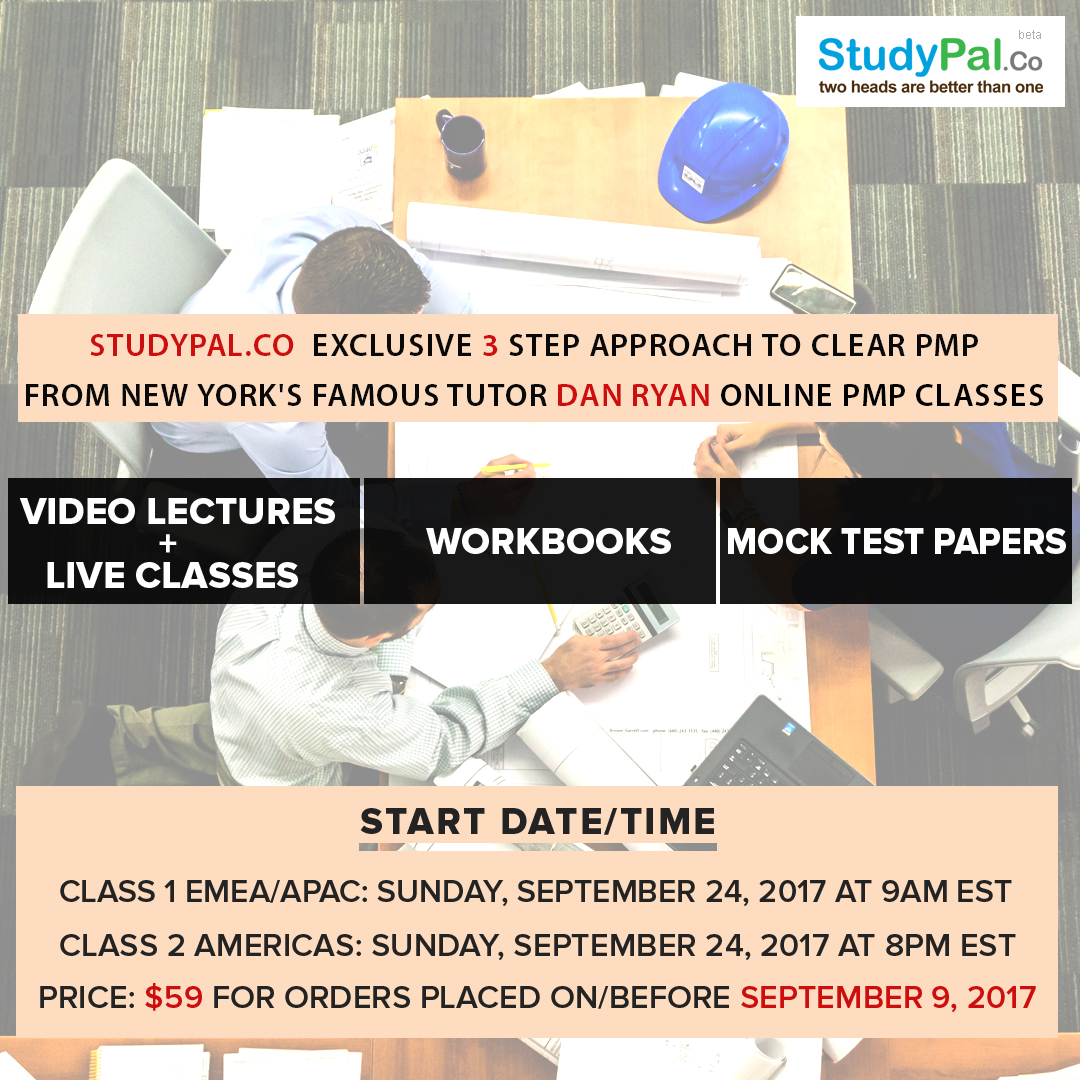 Sign up today at - PMP WEBINAR REGISTRATION LINK
Being a Project Management Professional is essentially a hard nut to crack; not to mention the gruesome preparations you have to go through.
So, what exactly pushes you to be forefront on the race?
Is it HARDWORK?
Is it DEDICATION?
Is it some MAGIC TRICK?
Is it some TRADE SECRET?

Studypal.co brings to you a complete PMP 5 week course by STUDYGURU DAN RYAN – AN answer to all your questions!
An exclusive offer at just Just $59 ($79 after Sept 9)
Start Date/Time:      
Class 1 EMEA/APAC: Sunday, September 24, 2017 at 9AM EST
Class 2 AMERICAS: Sunday, September 24, 2017 at 8PM EST
What do you get ?
Package includes:
 Package Includes: 
6 hours of coaching (1 hour per week)
FREE PMP Exam Formula Study Guide
Set of downloadable PMP Workbooks
Links to recordings of each class
90 Days access to online system
A WORLD CLASS PMP exam prep lesson, designed EXCLUSIVELY for you!
A simple 6 WEEKS step-by-step process to organize your studies.
Class Syllabus
During this 6-week long class you will be reviewing the following topics:
CLASS    TOPIC    RECOMMENDED PREPARATION
Week 1    Project Management Fundamentals
Week 2    Project Scope Management
Week 3    Project Cost Management
Week 4    Project HR Management
Week 5    Project Risk Management
Registered students will be able to download all workbooks prior to the first class.
So, what are you waiting for? Register TODAY and enjoy all these !!